My first storytelling event ended in disaster. Or so I thought. But, somehow, everyone loved it. They barely noticed my jumbled lines at the end.
The thing is, everyone loves stories. Everyone. They're hardwired into our DNA. Through stories, we understand the world, learn valuable lessons, and remember information.
Want someone to remember a key piece of information or to feel inspired to do something? Wrap your message around a narrative. If you create web content, use stories to make your material more consumable, memorable, digestible.
Here are 9 types of stories you can use to build trust and connection with your readers.
1. Personal stories
Personal stories hold power. They're an effective way to make connection with your readers because they show vulnerability. Vulnerability builds trust.
Also, most readers are curious about your experiences, no matter the niche/industry you're in.
Find a way to weave personal stories into your content and messaging.
2. Hypothetical stories
These types of stories are more imaginative. You want your reader to envision something (good or bad). You can start with something like "Imagine being ….."
Or paint a picture for them of a situation. The more specific you are, the better this works.
3. Case studies
There's nothing more effective than a well-told case study. Especially in sales.
We don't want to hear an individual or company telling us how great they are. But we'd devour a thorough case study that demonstrates positive results.
4. Historical stories
A few weeks ago, I read a newsletter from a copywriter who shared the most fascinating and relevant story to make a point in the email.
The key?
It was relevant. Stories have to be carefully chosen for their relevance and application to whatever idea you're sharing.
Historical stories also work because they're rooted in an accepted truth. They have credibility just by virtue of their being recorded history.
You also add weight to your present-day idea when you can link it to something historical.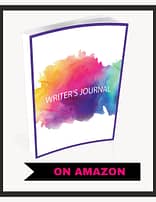 Plan, reflect, and stay on track with your writing projects and motivation. Get your Writer's Journal
5. Customer stories
These aren't necessarily testimonials. They are just stories your customers share with you about their experiences relevant to what you do/create.
They help readers feel connected – to the customer and to you. This is part of community building or the feeling of belonging to community.
6. Reader stories
Similar to customer stories, these are stories from your readers (who haven't necessarily purchased) that can help build community.
Don't have any reader stories? Ask for them.
Send out a newsletter inviting your readers to reply and let you know what they're struggling with and how you can help them. (This is also great information for writing delightful blog posts and creating even more delightful products and services.)
7. Personal failure/struggle stories
What have you been through that can inspire your audience? Share stories you're comfortable sharing that show vulnerability. This builds relatability and trust.
We are all imperfect and all have had personal struggles. Sometimes when we land on a website/blog, we put the writer on a pedestal 'oh, they can't possibly understand what I'm going through'.
By sharing personal struggle stories, your readers feel more connected to you.
But!
You don't have to go all out with this. There's no need to share stories that are dramatic (unless you want to) or stories that you're unsure about sharing. Getting uncomfortable is one thing. Putting your entire life (and dirty laundry) on display is another.
8. Biographies
These can be historical biographies or stories of people you know in person. It's not only famous people who have stories worth re-telling.
We all do.
9. Community stories
These are stories that belong to a tribe, group, industry, niche, community. Even though they are not specific to one person, they are still powerful. There are a few reasons for this:
(1) they carry more weight in that they are shared stories
(2) shared stories immediately make people who are part of that community feel more connected.
For example, artists share the story of struggling to stay true to their art while earning a living/gaining exposure.
Sharing stories may take a bit more time and thought and sometimes research than throwing together a blog post, but they work well to build connection with your readers.
You've probably noticed I mention connection a lot. It's the entire point of writing, connecting with your readers.
Take the time to craft stories for your readers.
Most times, it makes the writing process more enjoyable. And it's more enjoyable for your readers.
– Alicia-Joy