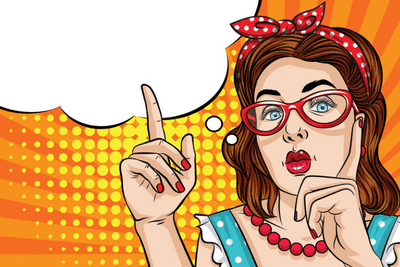 It takes a village to build a business.
I'm sharing why this matters and a few ideas to help you build – and nurture – your village. This concept borrows from the African proverb 'it takes a village to raise a child'.
Last winter I fumed for days about a potential client who didn't show up for a call. They didn't email to cancel. They simply didn't show up.
Twice in a row. 
In my head, she didn't respect me, my time, or my work. It was obvious she thought I was a joke. I believed this. You couldn't tell me otherwise. This belief led me to start doubting my copy, my services, my marketing.
I almost made the abrupt decision to stop offering discovery calls completely. From this one incident! 
I spiraled. 
Until…
I got on the phone with one of my business besties. By the end of the call, we both couldn't stop laughing about my overthinking. 
Who knows why the potential client had not shown up? Maybe she was terrified of committing, fell ill, or had a habit of doing this. Who knows? It's not my job to overthink why.
In my bubble, alone, I spiraled into self-doubt and wasted a ton of energy.
My business bestie pulled me back from the edge. This is the power of a relationship where we share wins, losses, gripes, and the mundane. We brainstorm together, laugh, and cry through the ups and downs of building a business.
My business besties are a part of my village (and I'm a part of theirs). Strong, supportive villages have different players and members. 
We need these villages to build a business that thrives – and maintain our sanity in the process.
This article is geared toward online entrepreneurs. Often brick and mortar business owners understand they cannot do it alone (for example, Keisha opens a bakery, hires staff, and maybe even gets a few family members to chip in to help here and there). This doesn't typically happen with online businesses.
Because the barrier to entry for online entrepreneurship is so low, people mistakenly think they can just muscle their way through to profit.
So, let's get to it!
1
We need mentorship
"Successful mentoring helps women with decision making while reducing feelings of isolation, and can be a source of inspiration (Woodd, 1997)."
I found that quote while reading the results of a fascinating study on women entrepreneurs and mentorship. Also from the study:
"A key success factor for these women was their recognition that they needed help and that establishing a mentoring relationship could be a means to their success."

2
We cannot do it all & we don't know it all
We may try to do it all but quickly we realize it's disastrous. And draining.
Online entrepreneurship sounds like a dream. Post a few messages, update your website, and voila! your new product/service is launched to a horde of raving fans.
If you've been at this for any length of time, you know that's BS. It doesn't happen that way.
You have to do a lot of 'things' to launch and maintain a business. Coupled with this is the fact that you don't know it all. 
Are you a coach, for example? Well, now you're also a marketer, social media manager, administration processor, bookkeeper, strategist, and 10 other things you're trying to learn as you go along. Feels like flying the plane while repairing it, right?
Just stop!
You need help and you know it.
3
We can't self-edit
Running an online business means you'll be writing. A lot. Social media content, articles, emails, there's writing to do. And editing your own writing is hard, if not impossible. Science has proven this.
No matter how many times you read, and reread something, your brain sees what you intended to write and will miss things. This has been studied and proven.
You need another set of eyes on what you publish, be they a professional editor, VA, or your next-door neighbor who's in their final year of University English and has volunteered to be an extra set of eyes on your work. 
4
It gets lonely
Even the most introverted person (me!) needs to have other people for expression, feedback, and of course, venting. Plugging away in your home office and building your online empire by your lonesome will feel like a lonely road.
As much as commuting to work can be a drag, there's value in seeing others, working on joint projects, and knowing there are other people doing the same work.
5
Connections matter
The bigger our network of connections, the wider our reach and the deeper our pool of potential collaborations, referrals, and resources.
The amount of people you know is limited. The amount of people your connections know (and their connections know) is limitless.
6
Bubble ideas
Ever come up with an amazing idea only to run it by someone who starts asking questions and giving solid feedback you never even thought of? This is typical. And the more exciting the idea, the less we can see possible challenges.
When I started offering services to help unburden overwhelmed entrepreneurs, the services that sold out the most (and fastest) were my brainstorming & planning sessions. It surprised me but shouldn't have. We have ideas. But we often need a helping hand (or brain) to get them out of our heads, ironed out, and into a solid plan. 
Most times we're just too close to something (ie our brainchildren) to see the bigger picture. We're in our bubble and emotionally tied to the idea. Whereas another brain has no connection or bias. They can see what we can't.
7
We're mostly expressive beings
Talking through ideas and plans gives them weight. Identity. Clarity. Direction. This one is similar to #3. The simple act of explaining something forces you to get clearer on it. Some people find expression in other means, such as artistry or music. But many of us need to 'talk it out'. 
8
We need to vent
When something goes haywire in your biz (and things WILL go haywire), you need someone who understands entrepreneurship to vent to. 
Your husband/mom/bestie doesn't get it (unless of course, they're entrepreneurs too. If so, lucky you!)
9
Blindspots are real (even though we can't see them)
We can't see our own blindspots, but someone else can.
I used to have this habit of coming up with new ideas every few days and acting on them every few weeks. Okay, I still have the idea habit but I don't always act on them.
I'd run these bright, shiny ideas by one of my business besties. Then one day, one of them said 'Alicia, how much progress have you made with the idea we talked about last month?' Ummm. None. Idea hopping is so (fun) and easy to do. But it doesn't build business. 
Sometimes it's good to change directions or take action on something new, but other times we're just playing the avoidance game and stuck in the fantastical universe filled with bright-shiny-objects. 'Oh, wow! Look over there! That's a brilliant new business I can start.' My support network now helps me stay on track with what I'm in the middle of.
Who are the members and key players in your village? 
xo
Alicia-Joy
P.S. I've numbered these reasons, but I'll keep adding more. Bookmark this or sign up for the Village Voice newsletter so you don't miss when I add more.