Serious about your writing goals? It's time to get organized.
I'm (mildly) obsessed with being organized. You should be, too, and I'll tell you why.
Okay, fine. You don't have to be obsessed. But if you're serious about getting your writing projects off to a healthy (re) start, download these tracking templates. Here's why you need them (and not just because I said so, although partially for that reason).
*Because your writing isn't just a hobby. It's your living (or you want it to be).
*Because it's so easy to not track your writing sessions. The result? you have no idea if you're making progress, increasing writing speed, staying on track with big projects, managing your client projects so you don't panic when you realize you're almost past deadline (I've been there once or twice. It's not pretty.)
*Because you don't have time to create spreadsheets with formulas (like words per hour and total words per project). Yes, I've done all that for you. I'm too nice, I know.
You only have time to enter your email, click download, and GET ORGANIZED.
What's in these spreadsheet trackers?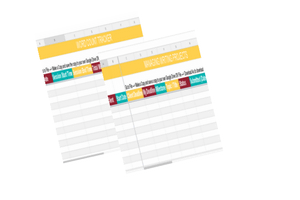 Spreadsheet 1 has 3 tabs for tracking your general word counts and also specific project word counts.
Spreadsheet 2 is your life-saving Writing Project Management tool. It will help you keep tabs on client deadlines, where you are with each project, and minor details (like if you've been paid post-submission. You know, the little things).
If I had created these when I started my writing career five years ago. I wouldn't have been scrambling at the last minute with projects (I confess. I wasn't always an organized writer).
Have fun with these.
You can thank me (via email or twitter) later.
Because I know it's easy to bounce around the internet downloading cool tools and then NEVER put them to use, you'll hear from me in exactly two weeks after you sign up. I'll email you to check in, share a few tips on how to best use your spreadsheets, and encourage you to get on track if you haven't.
I'll also send you an occasional email on writing + productivity/organization. You know, the fun nerdy aspects of writing life.
Ready to get organized?