Did you know there's a simple tool that can help you become a better writer? I'm going to share exactly what it is and why you need to be using it.
"….what is more to the point is my belief that the habit of writing thus for my own eye only is good practice.
It loosens the ligaments."
-Virginia Woolf
From Joan Didion to Virginia Woolf to Victor Hugo and more, there have been countless writers who've extolled the benefits of keeping a journal, diary, or even just a notebook. From personal experience, I agree.
Keeping a journal has deepened my writing and has been instrumental in sustaining a daily writing habit. It's such a simple tool, yet so effective.
If you're a blogger, aspiring (or published) author, article writer, or any other writer, here are 10 reasons keeping a journal helps you become a better writer.
1
A journal is the most powerful way to develop your voice
You have no fear of criticism or someone looking over your shoulder. It encourages consistent, filter-less writing, which is how you build a deeper connection with your voice.
2
It is the simplest way to build a regular writing habit.
There's no pressure or deadlines attached. Write as much (or little) as you want. Write about whatever you want. Just write. Your journal is an open playground to start playing with words. Daily.
3
It deepens writing reflection
Reflecting on your writing sessions and material helps you clarify your ideas and understand what habits are contributing to (or harming) your writing practice.
4
A journal is great for warming up
There's no better way to get your creative juices flowing than to journal. Before I start my formal writing for the day, I journal. It's like a jumpstart for my creative brain.
5
Helps you lighten up
When you write for a living (or use writing/blogging to connect with your audience and gain exposure), writing becomes a pressured act tied to deadlines and responsibilities. Journaling adds a positive, lighter side to your writing. You're writing because you want to, not because you have a deadline or need followers etc.
6
Helps you appreciate the journey of writing
Journaling is journey focused, rather than destination focused. You're not writing for a finished product. Instead, the process is your focus. This builds a positive association with writing and strengthens your engagement with the actual process of writing.
7
You can use it to gather insightful material for your formal writing.
In your journal, you'll write about events, experiences, thoughts, and feelings that you can then include in your formal writing.
8
Idea storage
Ideas are plentiful. But they're only useful if you capture them. A journal is your pre-designated space for taking note of ideas and inspirations that you can then build upon when you're ready.
9
Use it to develop your writing style
Use your journal to vary your usual writing style. You can try writing poetry or fiction (if you're a non-fiction writer, vice versa) or short stories or screenplays, etc. Use it to play with writing and see what feels good and interesting. This is how you develop as a writer and discover writing forms that resonate most.
10
Clarify your thoughts and feelings
Journaling is the ideal space to you make sense of difficult thoughts and feelings before weaving them into your formal writing. It feels less risky to do so and gives you the place to do it without feeling self-conscious. From there, you can decide what –if anything–you'd like to add to your work.
So, what's the best way to start?
You can use a blank notebook that you already have or find one that feels special to you. There's something inspiring about selecting a notebook with the intention of using it to build your deep writing practice. And of course, I cannot end without sharing about the Writer's Journal.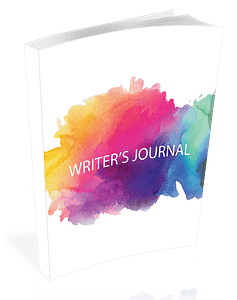 I created this journal with other bloggers, authors, article writers in mind. It's a powerful tool for anyone who wants to build and sustain a productive writing practice. Find out more about it HERE.
Whether you use the Writer's Journal or a plain notebook you already have, I encourage you to create a space where you can consistently share your writing ideas, reflections, and goals, without fear of judgment or critique. Journaling is a powerful journey. I hope you'll join me on the path.
-Alicia-Joy